Mohamed Mursi
Egypt's first democratically-elected President.
Professional Information
Professional Areas:
Government
Working primarily in:
Egypt
Biographical Information
Mohamed Mursi
(At a Glance)
Date of Birth: Aug/20/1951
Gender: male
Place of Origin: Egypt
Prior to running in the 2012 election, Mohamed Mursi was an engineering professor at the University of Zagazig. He is also known as a politician and chairman of the Freedom and Justice Party (FJP), the Muslim Brotherhood's political arm.
Mursi received a Bachelors in 1975 and Masters in 1978 in engineering from Cairo University. He later on went to earn a PhD in engineering from the University of Southern California in 1982 and served as an assistant professor at the California State University, Northridge.
From 2000 to 2005, he served in parliament as an independent. Considered a conservative within the Brotherhood, he headed a group drafting a party platform in 2007 that included a provision calling for restricting the presidency to Muslim men.
Egypt's Coptic Christians Fear Discrimination
Minorities have reacted with concern to the presidential victory of Mohamed Mursi, especially Coptic Christians, who are worried about the president's Islamic background, writes Maryse Farag ...
Egypt: New President Moves to Heal National Divisions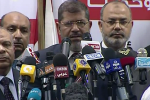 President-elect Mohamed Mursi has started developments to determine the shape of the new government by reaching out to presidential hopefuls and vowing to appoint diverse deputies, including a woman ...