Victoire Umuhoza Ingabire
Victoire Umuhoza Ingabire is a Rwandan politician. She is the Chairperson of the United Democratic Forces. She is also a candidate in Rwanda's 2010 presidential elections.
Professional Information
Professional Areas:
Government
Employer:
United Democratic Forces (Rwanda)
Position:
President
Working primarily in:
Rwanda
Biographical Information
Victoire Umuhoza Ingabire
(At a Glance)
Date of Birth: Oct/3/1968
Place of Origin: Rwanda
Victoire Umuhoza Ingabire was born in Rwanda, but has been living in the Netherlands since the 1990s.
In the Netherlands, Ingabire was actively involved in politics,specifically that of the Rwandan politial opposition in exile. Ingabire returned to Rwanda in January 2010.
Ingabire joined the Republican Rally for Democracy (RDR) in Rwanda in 1997. She was appointed the president of the Netherlands branch in 1998 and later was named the President of the RDR at an international level (2001).
In 2003, Ingabire was appointed as President of the Union of Rwandan Democratic Forces, an affiliate of RDR.
Ingabire was officially elected as the presidental candidate under the Unified Democratic Forces (FDU)-Inkingu party. Rwanda's elections will be held in August 2010.
(Information found on wikipedia.com and victoire2010.com)
Rwandan Opposition Party Leader Goes on Trial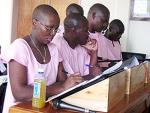 The court hearing of Victoire Umuhoza Ingabire and her co-accused has been postponed. She faces charges of promoting ethnic division, genocide ideology and trivialising the 1994 genocide against the ...
Rwanda: Opposition Leader's Case Delayed
According to the High Court, opposition leader Victoire Ingabire Umuhoza and her lawyers have failed to file their defence brief against the charges and evidence presented by the prosecution, to allow ...